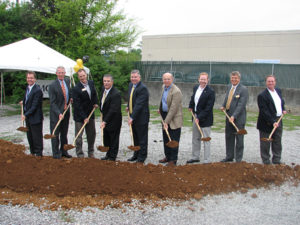 JOHNSON CITY, TN – April 24, 2014 – Mountain Commerce Bank (MCB) held a groundbreaking ceremony on Tuesday, April 22nd at the site of its new Bearden Financial Center (6115 Kingston Pike) on the corner of Northshore Drive and Kingston Pike in Knoxville. Construction is projected to begin on the two-story, full-service banking facility in May, and MCB anticipates that it will open in the first quarter of 2015.
"The financial center will create a significant presence in Knoxville and will provide a warm and inviting place for our clients to interact with their personal bankers," said Tim Topham, Executive VP & Area President. The new facility will feature a technology station with a touch-screen computer for account access, as well as traditional teller stations, drive-thru, a drive-up ATM and night depository. The financial center will focus on serving all the financial needs of individuals, professionals, small businesses, and commercial clients, offering a wide range of transactional and deposit products and services, such as mobile deposit from smart phones, remote deposit capture for businesses to deposit checks from their own locations, investment services and interest-earning accounts. In addition, MCB's team of Knoxville lenders provides private and commercial banking services and all types of loans.
Knoxville Chamber Senior VP Mark Field opened the groundbreaking ceremony with comments.   Bruce Bosse, President of Merit Construction, and Thomas Weems, Architect for the project, were in attendance. Chairman Dwight B. Ferguson, Jr., and President & CEO William E. "Bill" Edwards made remarks on behalf of the Bank. Also representing MCB were Director, Sam Widener, Executive VP/CCO/COO Kevin W. Horne, Executive VP & Area President Tim Topham and Tom Jensen, Senior VP & City Executive for Knoxville.
Bill Edwards, President and CEO stated, "I am pleased to begin construction of the new state-of-the-art financial center; it is the next step in MCB's Knoxville expansion strategy. We have had great success from very modest beginnings, which is evidence that banking is a relationship business."
Mountain Commerce Bank opened its doors in Knoxville in 2007 in a temporary facility on Peters Road, and in 2009 moved to its current location at 320 N. Cedar Bluff Road. The Knoxville market has approximately $100 million in deposits and $200 million in loans, as of April 2014.